By: JD Hardin
The extremely popular Phoenix Comicon has been a staple for Arizona comic book fans since 2002 and has always been a place that fans and volunteers feel welcomed. Just like the majority of conventions around the world, people may volunteer to work for free (or paid depending on state labor laws) and be able to attend the convention when they're not occupied with their duties. However, this year will be different for the Arizona convention. Volunteers will be required to join the Blue Ribbon Army. Memberships range from $20-$100 and DO NOT guarantee that you will be able to volunteer at Phoenix Comicon. This turn of events has hopeful participants up in arms. This is the first time anyone has heard of a volunteer having to pay to volunteer!
Naturally this has caused quite a stir in the convention community.
In recent years PCC has become one of the biggest conventions in the country. As attendance has skyrocketed, many guests open up to the press and fans a little more. Even
The Nerdery has gained news based on quotes from PCC guests. In 2016 the convention hosted an estimated 106,096 in attendance, which comes really close to SDCC's impressive attendance of approximately 167K in 2015. By comparison, Houston's Comicpalooza hosted approximately 43,800 in attendance in 2016. Needless to say, PCC is one of the countries largest conventions and is now offending a large amount of it's fans. PCC is claiming that this will make staffing easier. Phoenix Comicon director Matt Solberg saying "The system that we're setting up will be easier for us to manage and track staff formally to prevent those in the past who have arrived with a badge, got the volunteer benefits, and then not actually shown up to complete those tasks associated with their positions,"
That's fine and all, but people are not pleased to have to pay to work at the event.
"People jumped the gun, and we had a plan in place," Solberg said of the recent backlash. "Rumors take over and emotions will run high. It's a change to how we've done things…and there are those who are not happy they might have to become a paid member to take advantage of further activities and events."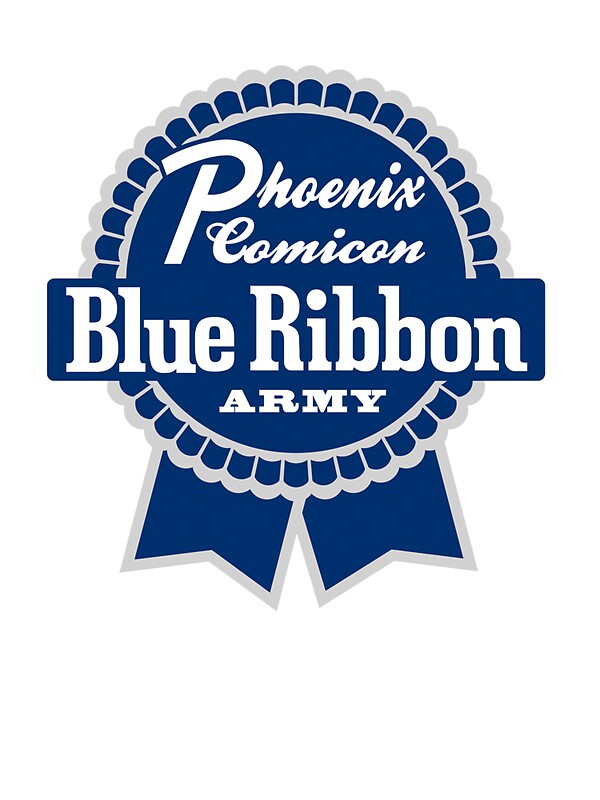 Solberg also detailed how the change was deemed necessary in a lengthy statement to convention staffers (bottom), and has offered the following press release.
Earlier this year, principles at Square Egg Entertainment and Blue Ribbon Army met to discuss a possible partnership for event planning, promoting Blue Ribbon Army, and offering added incentives for those currently assisting with Phoenix Comicon. In response to these meetings, Matt Solberg, Matt Hinds, and Jen Hinds collectively formed a social club and applied for 501(c)(7) status for the Blue Ribbon Army Social Club, incorporated March 15, 2016. Board members of the social club are Matt Solberg, Joe Boudrie, and Matt Hinds. Matt and Jen Hinds are the President and Vice President of the club, respectively.
The Blue Ribbon Army is a social group primarily dedicated to creating a safe, geek-friendly atmosphere where like-minded individuals can meet new friends. The Blue Ribbon Army, in accordance with federal guidelines for nonprofit social clubs, will charge membership dues, will host a minimum of one social event per month, will participate in community events, and will host fundraisers for its chosen charities.
One of the community events in which the social club has elected to participate is Phoenix Comicon,
and has formed a committee to that end. Square Egg Entertainment will no longer recruit its own staff for its event production. Anyone interested in helping to support this event, and all staff for Phoenix Comicon, will be members of this committee, and of the social club. Participating on the Phoenix Comicon committee is not a requirement of membership in the Blue Ribbon Army, and membership is not required to join the Blue Ribbon Army Facebook group.
This change does not affect panelists, guests, vendors, or sponsors, though any of these are welcome to join the social club and we encourage corporate memberships.
Square Egg Entertainment and Blue Ribbon Army look forward to a long and successful partnership and to our first joint event. Blue Ribbon Army membership information, benefits, and events are available on the website at www.blueribbonarmy.com.
While I understand the frustration over volunteers not working, to force them to pay to have a chance to volunteer in the future seems a little far. As a nine year member of the Jaycee's program, I also understand helping a charity group. But this sudden shift have have fans all over the country deeply concerned, all asking "Will my convention do this too?" The problem is that is a real possibility. With the rapidly growing comic book and convention industry, Cons are being flooded with volunteer applicants. Until some one can say "That's all we need", paying to volunteer is a real possibility. Especially when you look at the business side of things. The organizers, owners, and media companies are all there to make a profit off of attendees. If a window opens to allow them to make money off of staff as well, why wouldn't they? From a profit standpoint, they'd be foolish not to.
Regardless, even I'm concerned at what this may mean for convention volunteers. If PCC still boasts par increases in revenue and attendance, it'll only be a short while before the rest of conventions follow suit.
"This past year saw Phoenix Comicon hit record attendance in a rapidly changing industry.  It's part of my responsibility to stay ahead of trends and make decisions that strengthen our show for the next few years and over the years I've tried my best to share information on why certain decisions are made.  I know not everyone will agree with my decisions, but I hope that by sharing more information there is a greater understanding of why a decision was made. 
Phoenix Comicon is a healthy, vibrant, and profitable show.  We're one of the top five pop culture conventions in the country by physical space and attendance.  We're signed with the Phoenix Convention Center on Memorial Day weekend through 2020 along with the main host hotels (Hyatt, Sheraton, Westin, and Renaissance).  To continue to be healthy and vibrant we must continue to change, improve, and innovate.
Since 2010 we've seen dramatic changes within our industry.  There have been new conventions who have entered the pop culture con scene, including Amazing Cons, Awesome Con, Heroes Fan Fest, and Walker Stalker, as well as others who have expanded into new cities including Wizard World, Informa (Fan Expo), and Reed Pop.  We've seen conventions implode and the fan experience negatively impacted.  Wizard World lost $4.2 million last year and Amazing Con left Phoenix and Houston amid a tightening market.   Emerald City Comic Con and Wizards of the Coast are being sued over their staffing practices, and we're reading attendee feedback along the lines of "been there, done that" in attending shows like ours.
Within Phoenix we've seen that we can no longer maintain the status quo of how we operate to be successful.  We've needed to update and invest more resources in how we market than ever before.  We've seen changing attendee habits alter our plans for on and off site activities.  And with our rapid growth since 2010 we need to review processes and tasks that no longer provide a benefit to our attendees or the convention in general that we have done simply because we have "always done it that way."
It's against this backdrop that I have been making key staffing and department changes in 2016 along with implementing a new process for maintaining our staffing needs for 2017.   I believe that the decisions I am making are important to the long-term viability of our show.
In 2016 we instituted a headcount on the number of staff each department utilize, I let go three Directors, we reassigned five teams from one department to another, and we nixed certain tasks due to cost or staffing concerns.  In 2017 we will be utilizing the Blue Ribbon Army for our staffing needs, which is a 501(c)7 nonprofit social organization with dues paying memberships.  Change, improvement, and growth are important for any business or organization.  I'm also aware that not everyone handles rapid and frequent change well, such as we've been undergoing, and I hope to better explain these decisions.
For our 2016 show we implemented headcounts for the first time.  Prior to 2016 we had no controls on the number of staff we would use, we did not have any means to prevent staff from collecting their badge and benefits and not showing up to do their tasks, we had limited to no knowledge about the work certain teams did onsite, and departments were making decisions that required other departments to increase their staffing levels (and the cost and management oversight that goes along with it).   Some examples:
·         Three weeks prior to our 2015 show our staff count was 1,700+.  Onsite the number of staff who checked in was 2200+, an increase of 500+.  No one could explain the reason for this sudden jump, if it was planned or not, and how to prevent it from happening again under the existing structure.
·         One team had fifty-four staff members that collected their badge and benefits but did not show up for their shifts or tasks onsite.  We had no method to prevent this from happening again under the existing structure, nor did we have accurate means to determine how widespread this situation was across other departments.
·         I would ask Directors what tasks certain teams conducted onsite and they would in turn ask their Managers and the response across multiple teams was "I do not know."  We had built teams simply because we were building teams.
For 2016 I set the goal of a convention wide headcount of 1600.  We finished with just over 1400 staff.  All departments saw a reduction in the number of staff they could utilize and it required us all to structurally and systemically create better methods to do existing tasks and to evaluate the importance of each task we did.  My goal for 2017 is 1300 and in 2018 is 950 staff.  I firmly believe it is possible to utilize 1,000 or less staff in the operation of Phoenix Comicon.
As Phoenix Comicon grows and our industry changes I need to make sure our staff is aligned with their jobs and duties and that teams are structured for optimal success.   This year I let go the Directors of Technology, Marketing, and Guest Relations, shifted Onsite Tech Support, Photo Booth, Photo Op Point of Sale, Info Desk, and Merchandise to Operations and I elevated Software Development to a Director level team.  I believe these changes best reflect how those teams operate and the resources they need.  Some background:
The Technology department was originally formed to develop software, in the form of ConQuest, for our show.  It was important to me to refocus efforts on our software development and give them a seat at the proverbial table.
Photo Booth and the Photo Booth Point of Sale team were housed within Guest Relations until 2013.  When we developed our own photo op processing system the team made the shift to Technology.  As the system is mostly developed, a shift is now needed, this time to Operations, as the bulk of the resources the Photo Booth requires, such as space in the exhibit hall, pipe and drape, tables, electric, internet, line control, transportation and logistics of equipment, all originate within Operations.
Info Desk's main task is to support attendee's questions by email prior to our show and onsite during our show.  That is much more aligned with other teams in Operations (such as Registration) than it is with Marketing.  The same can be said for Merchandise.
As for the dismissal of three Directors:  while I do not publicly comment on the specifics surrounding each dismissal or decision, I did not take any of these decisions lightly.  Jeff Tippett and Jillian Squires served as staff since 2011 and Brandy Kuschel served since 2007.  All are good people who contributed to our success over the years.  I feel that my decisions are in the best long-term interests of the convention, but am happy to talk privately with those who may have continued concerns.
As we move into 2017 with our shift to utilizing the Blue Ribbon Army for our staffing needs, we are following a trend that others began, namely Wizards of the Coast's decision to work with a non-profit for their Game Master needs.  How shows such as Phoenix Comicon have operated is changing and I believe that any convention that does not adapt now will face financial and legal difficulty in the years to come.
Blue Ribbon Army (www.blueribbonarmy.com) formed as an unofficial Phoenix Comicon Facebook fan club in 2013.  It now has over 11,000+ page likes on Facebook and has organized fundraising events for local charities the past few years.   This year they have formally become a registered 501(c)7 nonprofit social club that requires memberships and dues, with the goal of offering more social activities to give like-minded geeks a place to meet friends.  Blue Ribbon Army has announced three preliminary membership levels beginning at only twenty dollars per year, with certain benefits associated with each level of membership.  One such benefit will be the opportunity to be staff members for Phoenix Comicon.
The benefit to Phoenix Comicon of working with Blue Ribbon Army in this manner is it provides additional social engagement to our staff that we have been unable to provide for years, helps reduce and eliminate the number of those who claim badge and benefits without doing the work, provides a better framework for our staff that is important to us from a moral and legal standing, and will lead to an overall more dedicated staff for Phoenix Comicon.
This does require those who wish to continue to be on staff to become a dues paying member of Blue Ribbon Army, with annual memberships beginning at twenty dollars for 2017.  We know for some this is no issue and for others this will be a no decision on continuing to be a member of staff.
How this will work is pretty simple:  staff will sign up for Blue Ribbon Army through their website and gain access to the benefits associated with the membership tier of their choosing.  Within Blue Ribbon Army committees have been formed including one for Phoenix Comicon, which is set up in our exact organizational structure with our existing departments, teams, Director, Manager, Coordinator, and Event Staff positions.   The head of the committee is me and the Directors of Phoenix Comicon remain the same.  Managers, Coordinators, and Event Staff who elect to sign up for membership in Blue Ribbon Army will in turn be elected for their current positions.   Regretfully those who elect not to join Blue Ribbon Army will be unable to be staff for Phoenix Comicon.
Joe Boudrie, Director of Programming, and myself serve on the Board of Blue Ribbon Army along with Blue Ribbon Army Co-Founder Matt Hinds.  Matt and Jen Hinds (the other Co-Founder), act as President and Vice President, respectively.  The current equity member of Blue Ribbon Army is myself.   Square Egg Entertainment as the parent company of Phoenix Comicon is a corporate member of Blue Ribbon Army.
While the broad overview of working with Blue Ribbon Army is simple, the devil, as they say, is in the details.  It is also a change from how we have operated, and I'm aware that while some are excited at this direction, others are not, either on principal or the financial obligation it requires.
Therefore, I am making myself available tomorrow evening at 7PM at our offices (4640 E Elwood St Suite 11), and in multiple meetings leading into our first All Hand Staff meeting in January to discuss this change.  I look forward to hearing your enthusiasm or concerns, and answering questions you may have about this (or really any topic).  (I know you can be an inquisitive bunch.)
I feel confident we will successfully make this transition with your support and look forward to beginning the planning for 2017 in earnest in the weeks to come.
I'm excited to see many of you tomorrow night.  Thank you for taking the time to read another one of my verbose emails.   It wouldn't be Phoenix Comicon without a four-page email from me, would it?  J